by Joshua Rozenberg Link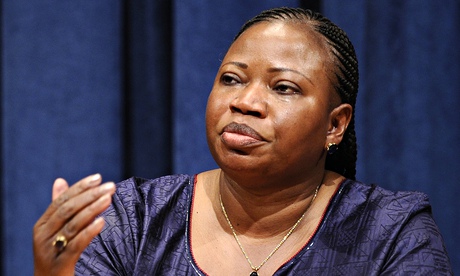 The Bar Human Rights Committee wrote to the ICC's chief prosecutor, Fatou Bensouda. Photograph: Emmanuel Dunand/AFP/Getty
Moreno-Ocampo took more than three years to work out what was wrong with the 2009 declaration. The ICC has jurisdiction over crimes committed in a particular territory only if jurisdiction is granted by the state in whose territory the crimes occurred or by the UN. A state can confer jurisdiction on the court either by becoming a party to the Rome statute or by making a one-off declaration.
Palestine had indeed made such a declaration. But was Palestine a state? Not according to the UN. At the time of Moreno-Ocampo's decision, it was merely an observer at the UN general assembly. So, in the prosecutor's view, Palestine's declaration had no effect.
Heller argued that the resolution did not have retrospective effect. It did not deem Palestine to have been a state in 2009. So the declaration it lodged then was in effect void.
Of course, there's an easy answer to this. Palestine needs to lodge a new declaration, accepting the ICC's jurisdiction from November 2012. Heller says the new declaration must follow the wording of the old one and refer to acts committed in Gaza or Palestine: it won't be valid if it is limited to acts committed by one side or the other.
So where does that leave Palestine? It is not a state party to the Rome statute, the ICC said. The court has not "received any official document from Palestine indicating acceptance of ICC jurisdiction or requesting the prosecutor to open an investigation into any alleged crimes" following the resolution granting it non-member observer state status. Therefore, Bensouda said, "the ICC has no jurisdiction over alleged crimes committed on the territory of Palestine".
You would have thought the 20 QCs and professors might have been able to work this out for themselves. Of course, the prosecutor may be wrong and the British lawyers may be right. But it is at best naive and at worst misleading for their letter to give the impression that the matter is beyond any doubt.
I am sure the British QCs and professors were motivated by the highest humanitarian considerations. In their view, an investigation would "send an unequivocal message to those involved that they stand to be held personally accountable for their actions". They believe it "could play an important role in bringing breaches of international law in the region to a rapid end".