Nine people have been killed in air strikes on Gaza over a 24-hour period.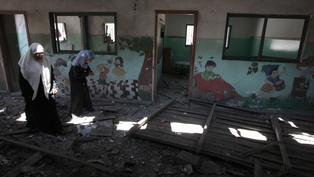 A series of Israeli air strikes on Gaza over a 24-hour periodhas resulted in nine Palestinians being killed and 30 injured.

Nine people have been killed in a series of raids across the strip that ended before dawn today.

Among the dead, at least two were Islamic Jihad militants.
The first attack yesterday hit a car in the southern city of Rafah, killing 34-year old Jihad militant Ismail al-Ismar.
Later, medics found the body of Ismail Amum, a 65-year-old civilian who was killed during an earlier raid near Deir al-Balah in central Gaza.
During the evening, the air force struck a target in Gaza City, killing another Jihad militant, 20-year-old Atiya Muqat; one more strike on Rafah killed Hisham Abu Har, a civilian working inside the cross-border smuggling tunnels.
Early this morning, an air strike on a sports hall in the northern town of Beit Lahiya killed civilian Salam al-Masri, and injured another 20, one critically.
Several hours later, 22-year-old Adnan al-Jakhbir, a civilian who was critically injured in Beit Lahiya, died of his injuries.
During the afternoon, medics have pulled three more bodies from the wreckage of tunnels in Rafah, Abu Selmiya said, naming them as Imad Abu Harb, 32, Rajaa al-Sabhani, 19 and Mohammed Tafesh, whose age was not immediately clear.
None of them were believed to be militants.
Over the same 24 hour period, Gaza militants fired 19 rockets and mortars into southern Israel, lightly wounding an infant, the military said.
9 killed in Gaza air strikes - RTÉ News